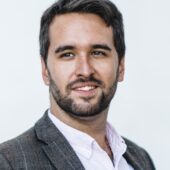 Assistant Professor
B.A. University of Exeter, 2014 M.A. Sciences Po Paris/Moscow State Institute of International Relations (MGIMO), 2017 Ph.D. George Washington University, 2023
Kirby 315
336.758.3996
lentona@wfu.edu

Area of Expertise: Nationalism and ethnic politics, Russian domestic and foreign politics, political development, integration, and international security in Eastern Europe and Eurasia
Adam Lenton is an Assistant Professor of Politics and International Affairs at Wake Forest University. His research focuses on the links between nationalism, political development, and security, with a regional focus on Russia and the former Soviet Union. His research has been published in Russian Politics and Problems of Post-Communism, and is financially supported by
the Harriman Institute of Columbia University and Carnegie Corporation of New York. He is currently working on a book project, based on his doctoral dissertation, which explores the macro-historical and symbolic sources of ethnic minority identities in Russia. He received his Ph.D. from George Washington University.
POL 114 Comparative Government and Politics
An analysis of political institutions, processes, and policy issues in selected countries. Case studies will be drawn from Africa, Asia, Europe, and Latin America.
POL 232 Politics in Russia and Eastern Europe
Analysis of the political, economic, and social patterns of the region, emphasizing the dynamics and divergent outcomes of the regime transitions after the fall of communism in Central and Eastern Europe and the former Soviet Union.
POL 245 Ethnonationalism
This course is concerned with the role of ethnicity in world politics. It focuses on both theoretical and substantive issues relating to: (a) the nature of ethnicity and ethnic group identity; (b) the sources of ethnic conflict; (c) the politics of ethnic conflict; (d) the policy management of ethnic conflict; and (e) international intervention in ethnic conflict.