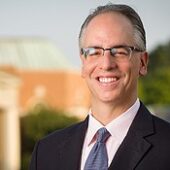 Distinguished University Professor
ZSR 673
kersh@wfu.edu
Areas of Expertise: American Politics, Health Policy and Politics
Rogan Kersh received his B.A. from Wake Forest in 1986, and returned as provost and professor of political science in July 2012. In this role he oversees the University's academic mission and programs, working to support and enhance research, teaching, and creative work across the College, graduate, and professional schools. Prior to arriving at WFU, Kersh was associate dean of NYU's Wagner School of Public Service, where he was professor of public policy. Kersh has published three books, on American political history and on health policy; a new edition of his By the People: Debating American Government (with James Morone) was published in 2017 by Oxford University Press. He has published over 50 academic articles, and does frequent media commentary on U.S. politics and on the 'Millennial' generation. He has been a Mellon Fellow in the Humanities, a Luce Scholar, a Robert Wood Johnson Fellow, and is an elected Fellow of the National Academy of Public Administration.
Kersh received his Ph.D. in political science from Yale in 1996, and has professional experience in the U.S. Congress, the British Parliament, and at think tanks in Tokyo and Washington, DC. In Winston-Salem, he serves on the boards of the United Way and the RiverRun Film Festival, and chairs the Mayor's Thought Force on Poverty. In 2022, Kersh stepped down as Provost and is now a Distinguished University Professor.
POL 210 Food, Politics, and Policy
In exploring the politics and policy of food we will address four broad areas: (1) food cultures (both national and regional, such as the US South, and non-geographic cultures like vegetarianism or the pervasive practice of food waste); (2) food systems (farming, food transport/distribution, marketing, etc.); (3) food insecurity, including both hunger and obesity; and (4) food safety (GMOs, ultra processed foods, bioterror, etc.). We explore these primarily in the US public policy context, with regular reference to other countries. Among debates we'll address: are GMO foods unsafe? Could governments slow the obesity epidemic? How might climate change affect food production, distribution, and prices? Are organic foods healthier? How to address widespread hunger around the US and globe? Is 'Big Food' a menace to societies – or a boon for consumers? And so forth.
POL 210 The Rising Generation: Politics & Culture
This seminar explores the distinctive cultural, political, and social practices and attitudes exhibited by the "rising generation" of educated young Americans, currently in their late teens and 20s. Note the term 'distinctive': compared to preceding generations of better educated young American when they were teens/20s, what is different about today's youth? We will explore topics including primary and secondary schooling, relationship to authority, political engagement, shifting workplace styles including leadership inclination, mental and physical health, consumer practices, individualism and solidarity, and much more. Social-science research suggests that the 'rising generation' is genuinely different from their predecessors in important and likely enduring ways.
We will attend closely to our present moment – post Covid, deeply polarized US polity, strong movements for equity and justice, economic complexity, social media's reign – as well as tracing historical influences on youth culture and politics today. We will also compare American youth to their counterparts around the globe… including in direct fashion, as the course will finish with two intensive weeks of study (immediately following WFU commencement) in Copenhagen, Denmark.